Manufacturing activities
AUTOMOTIVE COMPONENT PARTS MANUFACTURING, PROGRESSIVE STAMPING WITH HIGH EFFICIENCY MANUFACTURING CAPACITIES
Due to the investments focusing on automotive industry including automated stamping technique devices (40-400 tons), robotic welding appliances and resistance welders, CNC cutters, powder colouring factory as well as the cooperation established in the field of KTL painting, galvanizing and other surface treating processes (e.g. nitridation), various stamped or welded sheet automotive component parts can be manufactured with great accuracy, in excellent quality and in large quantity.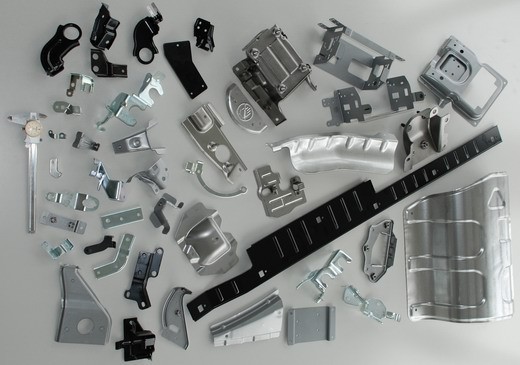 MANUFACTURING AND TRADING OF STAMPING TECHNIQUE AUTOMATION EQUIPMENT
The stamping technique serving devices – strip unreeling machines, strip straightening machines, feeders – manufactured by Dometal Kft. offer economical solutions for any stamping plants, thus companies dealing with large-volume sheet processing can be competitive not only from the aspect of productivity but profit-earning capacity as well.
Our products range from cost-effective pneumatic 50-mm strip feeder devices to high-performance roller feeders exceeding 1200 mm material width, and we are ready to fulfil special needs if required.
CONSTRUCTION INDUSTRY MACHINE ENGINEERING
DOMETAL Kft. has been manufacturing and trading construction industry machines for 20 years under the trade name Dokker.
Dokker concrete mixers comply with the requirements of both handicraftsmen and industrial users and assist the work of several thousand builders in Hungary and throughout Europe as well.
TOOL ENGINEERING, TOOL MAINTENANCE
A part of our stamping tools used for the manufacturing of automotive component parts are fabricated by us either step-by-step or progressively, while the rest of our tools are provided to our customers by the help of our approved tool manufacturers, meeting the strict deadlines and – if requested – providing soft tool prototype items.